Pastor Cedric L. Barnett
Music. Media. Ministry. If you were to ask our Founding Director, Pastor Cedric Barnett, what three words would most accurate describe his life, it would be those three. A native of Montgomery, Alabama, "Pastor Ced" graduated from G.W. Carver High School in 1983, and splitting time between college and the military, graduated from Auburn University in 2000 with a B.A. degree in Mass Communications. He is a veteran of both the United States Navy, as well as the Alabama Army National Guard as a former member of the 151st Army Band. He is married to the former Alicia Strowbridge of Swainsboro, Georgia, and they have been married for over 26 years. They reside in Prattville, Alabama, where the ministry is based.
MUSIC
Pastor Ced is an accomplished pianist and keyboardist, vocalist, choir director, songwriter, and arranger. He started out on trumpet in junior high school, then moved on to other brasswind instruments in high school, particularly French horn and mellophone. He learned how to play the piano at 14 years of age, and soon started playing in church under the tutelage of his mother, Mrs. Jacqueline Barnett. Upon first attending Auburn University, he began playing for, and eventually directing with the Auburn University Gospel Choir. After his term of service with the U.S. Navy and his ministerial licensing, in 1993, he was asked to return to Auburn by Dr. David Banks, the AU Gospel Choir's faculty advisor, to become the choir's music director and minister of music, where he served until his graduation from Auburn in 2000. In 1994, he was asked by his mother to become a part of the music staff for the Montgomery, AL Chapter of the Gospel Music Workshop of America (GMWA), where he has served in several capacities before being appointed and installed as the Chapter's Representative to the National Convention of GMWA in 2017. He has served as minister of music for several churches in Montgomery, Opelika, Selma, and Prattville, AL before finally retiring in 2017 to focus more on the development of WJIC Media Ministries.
MEDIA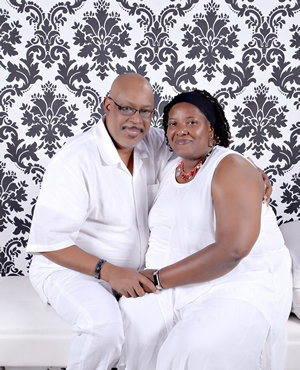 Pastor Ced first started his broadcasting career in 1997, when he was hired by WXVI-AM in Montgomery, AL to do their Sunday afternoon broadcasting shift. "Sunday Praise and Worship" introduced listeners to "the Minister of Music", and soon, he would be moved to the midday shift, where he became a trailblazer for introducing his listening audience to unknown and independent artists. It was during this time that he also became a member of GMWA's Gospel Announcers' Guild (now known as the Alliance of Gospel Music Professionals). Prior to his graduation from Auburn in 2000, he was laid off from WXVI-AM, prior to their sale to another owner. Needing to do an internship, he interned at WMCF-TV (Trinity Broadcasting Network) in the fall of 2000, and after his graduation, he was hired as a part-time production assistant at WMCF (TBN) in April of 2002. Working his way up the ranks as production assistant and master control operator, he was promoted to full-time in June 2006 as he became the station's automation systems programmer, a position he has held until present-day. In June 2008, while he was recovering from a major surgery, he began an Internet radio program through the Yuwie social network called "The Praise Party w/Pastor Ced", and upon Yuwie's demise in 2012, "The Praise Party" was Yuwie Radio's second-longest running show. During that same time, he assisted Pastor Kevin Strawder in launching the Gospel Music and Productions (GMAP) Broadcasting Network in 2010. Following the leading of the Lord, he and his wife founded WJIC Media Ministries in September 2015, and launched the WJIC Network in April 2016.
MINISTRY
Pastor Ced was first licensed into the Gospel Ministry on May 23, 1993, by his spiritual father, Dr. G.W. Bozeman, as he preached his initial sermon at the Day Street Missionary Baptist Church of Montgomery, Alabama, the church he grew up in. He was ordained as a Baptist minister less than a year later in March 1994. Since his ministerial ordination, he has served as both minister of music and associate minister for several churches. In July 2004, he and his wife joined the Fresh Anointing House of Worship (FAHOW) in Montgomery, AL under the leadership of Bishop Kyle Searcy, and in 2005, became part of the initial pastoral team of FAHOW Selma, AL, under the leadership of Overseer Coley and Pastor Tonya Chestnut, where they continue to submit under their leadership. In August 2016, they were ordained as pastors in the FAHOW Fellowship by Bishop Searcy.